Stor platta vulkaniserande pressmaskin / PLC-styrning
Plattan vulkaniserande press utrustad med en programmerbar PLC-styrning, vilket kan ställa in tryck, temperatur, tid, ansträngande frekvens och antalet sekunder med människa-maskin-gränssnitt operativsystem. T sin stora vulkaniserande pressmaskin gäller för komprimering och formning av gummi, plast, hartser och andra polymera material.
parametrar:
Capacity

200T

Temperature range

Normal temperature ~ 300 ℃

Pressing plate size

300 X 300/350 X 350/400 X 400/450 X 450/500 X 500/

550 X 550 mm

Distance of pressing plate

100 mm

Exhausting frequency

0 ~ 10 times can be set

Oil pressure medium

Mobil 32# antfreeze hydraulic oil

Power supply

3 ∮, five lines
Specifikation:
1.Controller: PLC programmerbar färg pekskärm har gränssnitt mellan människa och maskin. Alla driftsparametrar kan ställas in och kontrolleras efter vilja. Munstryckning process och vulkaniseringskurva kan visas dynamiskt.
2.Heating metod: Electro-termisk röret
3.Cooling metod: Tryck vattenkylning
4.Working skikt: Två skikt. Den övre dörrplattan uppvärmningen, den nedre dysplattan kylning.
5.Ogtryckssystem: Den sluten slinga styrsystem för proportioner flödesventil hydraulisk med funktionerna hos automatisk kompensation och tidsfördröjning stopp av bränsletanken.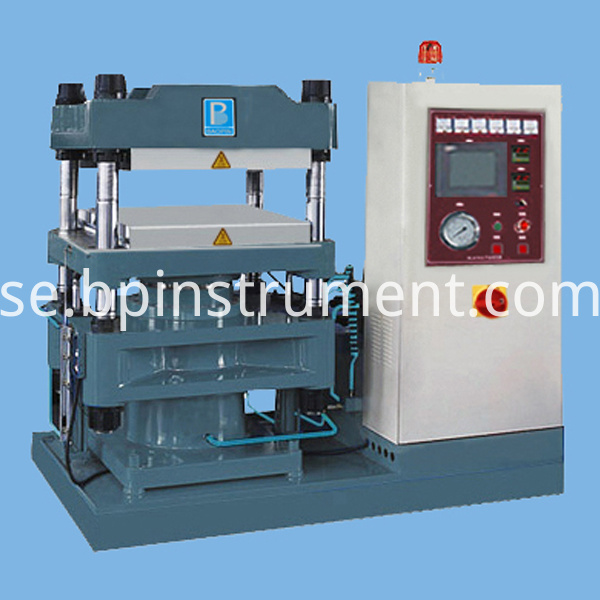 Produktkategorier : Lab Tablet Press Series