PLC kontroll skrivbordet liten tvillingskruv extruder
Skrivbordet dubbelskruv extrusder används för att extrudera smält plast för tillverkning av plastprodukter, såsom rör, plåt, profil, och så vidare. Det kan också användas för pelletering. Den är lämplig för PE PP plast. Den är avancerad och med god kvalitet, med hög kapacitet i mjukgöring, och har lägre strömförbrukning.
Skrivbordet PLC kontroll dubbelskruvsträngsprutanordning är liten och bekvämt, det är det bästa valet för laboratorietest och småskalig produktion.
parametrar:
| | |
| --- | --- |
| Output | According to the raw material formulation process |
| Screw diameter | 20 |
| Length diameter ratio | 1:18 |
| Screw speed | 0 - 120 rpm frequency control |
| Power supply | 3 ∮, 50 Hz, 5 lines |
specifikation:
1. Riktning skruv: Parallell och samma riktning
2. Förening Läge: Föreningen läget av skruv sviten bygger blocket spiral och den för maskinens fat är flera avsnitt.
3. Uppvärmnings zon: Laddnings fat område har fyra aluminiumvärmare, 2 värmare i handstycket och på utsidan täcks av säkerhetsfläkthuven.
4. Kylning anläggningen: Multi-vingar fan kraft kylning i super vilande tillstånd.
5. Drivsystem: Precision reduktionsväxelmotor och retardation rotationsfördelning integration.
7.Electric styrsystem: PLC programmerbar färg pekskärm, människa och maskin operativsystem.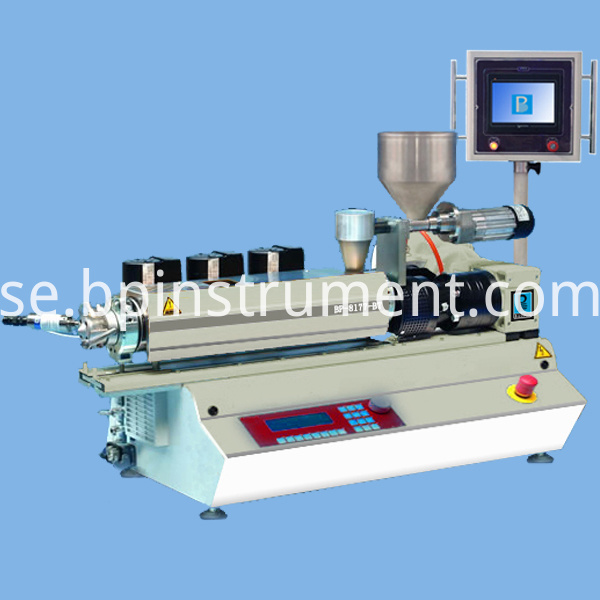 Produktkategorier : Lab Extruder Series